Wroclaw as a more than 1000-year-old city itself is worth a longer visit: In the heart of European culture, this city during many centuries has been a bridge between East and West and capital of one of the richest regions in Europe especially in terms of mining and agriculture. Also, Wroclaw and the Region of Lower and Upper Silesia since the beginning of Industrialization always have been in the forefront of innovation. A two digit number of Nobel Prize winners have connections to Wroclaw. The entire region is very rich in mountains and cultural gems (click for more info). A lot of high-quality hotels are available also in the countryside so prolonging your stay with some vacation in the region is a really good idea. For recommendations please contact us!
So it is a good idea to take your partner to the conference and connect the visit to Wroclaw with a vacation in Poland and maybe Eastern Germany and Czechia.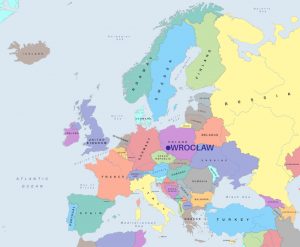 Airport information: IATA Code: WRO
Direct connections to/from:
FRA – Frankfurt (Lufthansa – APCOM2019 discounts available, see below!)
MUC – Muenchen (Lufthansa – APCOM2019 discounts available, see below!)
DUS – Düsseldorf (Eurowings – LH Group APCOM2019 discounts available, see below!)
STR – Stuttgart (Eurowings – LH Group APCOM2019 discounts available, see below!)
ZRH – Zurich (Swiss – LH Group APCOM2019 discounts available, see below!)
CPH – Copenhagen (SAS – Star Alliance)
WAW – Warsaw (LOT – Star Alliance)
AMS – Amsterdam (KLM)
CDG – Paris (Air France)
plus numerous low cost destinations inside Europe. Visit the Wroclaw airport web site for details: http://airport.wroclaw.pl/en/passager/route-map/
Plan your travel to include a very special post conference mountain hike!
Special offer: Discounted travel with Lufthansa Group Partner Airlines
Lufthansa Group Partner Airlines offer a comprehensive global route network linking major cities around the world. Lufthansa offers special prices and conditions to participants, visitors, exhibitors, invited guests as well as employees of the Contracting partner and their travel companions.
To make a reservation, please click on www.lh.com/event-flight-booking and enter the access code PLZQIPD in the "Offer for discounted flights" area. This will open an online booking platform that will automatically calculate the discount offered or provide you with an even better offer if another promotional fare is available.
NOTE: Pop-ups must be enabled otherwise the booking platform window will not open.
These promotional fares are also available through your IATA / ARC travel agent. Travel agents can obtain ticketing instructions by sending an email to lufthansa.mobility@dlh.de and providing the access code as a reference.
The journey using reduced event tickets may start on May 28, 2019, and last until June 13, 2019.
The discount of up to 10% depends on the booking class. Discount is granted for most booking classes (only a few on EW).